Routes connecting the city centres with competition venues have been identified to showcase the best cycle infrastructure the region has to offer. The best way to sight see the region is to cycle or walk!
Smithfield, Arena Birmingham and Edgbaston Stadium are all walkable distances from major transport hubs within the city centre including Birmingham New Street Station, Moor Street Station and Digbeth Coach Station.
Spectators, workforce and anyone else who fancies a leisure ride are encouraged to cycle to the Commonwealth Games venues. Cycle parking sites are available within a few minutes walk of all venues, providing secure facilities to store your bike until you're ready to leave.
West Midlands Cycle Hire is also available in both Birmingham and Coventry City Centre helping you to travel green to venues. Additional docks have been provided to supplement the existing network providing a convenient place to dock your bike, and collect one for the journey home.
Give our green routes a go!
Green routes on Strava
Check out our green routes on Strava at the links below.
Green Route 4 – New St Station to Sandwell Aquatics Centre
Green Route 5 – Coventry Rail Station to Coventry Stadium/Arena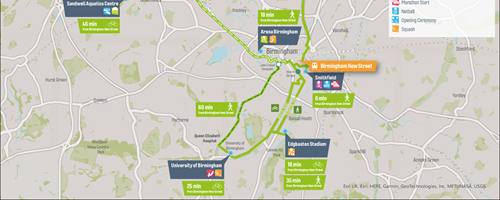 Birmingham Green Routes
Download a map below for Green Routes from Birmingham City Centre to: 
Alexander Stadium
Arena Birmingham
Smithfield 
Edgbaston Stadium 
University of Birmingham Hockey and Squash Centre 
Sandwell Aquatics Centre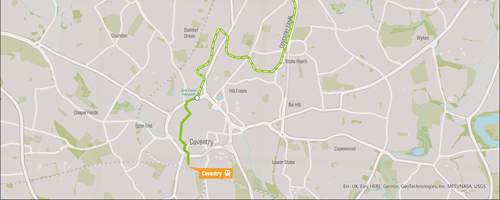 Coventry Green Route
Download a map below for Green Routes from Coventry City Centre to: 
Coventry Arena 
Coventry Stadium