You can get student discounts on bus, train and tram tickets if you're:
18 or above and in full-time education
16 to 18 years old and not eligible for the 16-18 photocard
You can get student:
Direct Debit tickets
4-week tickets
term tickets
Use our ticket finder to find the right ticket for you. You'll need to prove that you're in full-time education to buy a student ticket. This has to be a letter from your university or college - you cannot use an NUS or other student union card.
If you do not need to travel often, you can get a Swift pay as you go card or use Swift Go.
Applying for a Student Pass
If applying for an 18+ Student pass for the first time, then follow the steps below:
Go to tfwm.org.uk
Select 'Swift and Tickets'
Under the column 'Discounts and free travel passes' click
Use the 'ticket finder' option to find the pass suitable for your travel.
Once selected the mode of transport, press the arrow button down to select traveller, click 'Student 18+'.
Students option come in 2 durations only: 'About a month' or 'Longer than a month' – which is the equivalent to a 4week pass or a term pass. Once you have selected the one you require, click 'Find Tickets'
Find the ticket you wish to purchase, then click 'Buy on Swift'.
There are 3 options: 'Already have an account', 'new customer' or 'have a card but not a swift account'.
Select 'Create Account' under the new customer section.
Enter you education details and upload supporting documents to prove you are in full time education.
Select the date you wish for your pass to start, the next available date is usually in 7days time, allowing enough time for you to receive the pass in the post.
Next enter your personal details, adding your photo and entering a valid email address and password as this will create your account. Once completed press 'Continue'.
Once everything is completed your student swift card will be sent out to you via post, this can take up 7 working days.
Replacing a Student Swift Card
Lost or stolen swift cards can be replaced so long the swift card is registered and there is an existing product on the card with more than 7 days remaining. Replacement cards can take up to 5 working days to arrive depending on the post. The fee for a replacement card is £7.50.
Lost Cards
Lost cards can be replaced over the phone by calling Customer Service – Ticketing on 0345 303 6760. Swift cards can also be replaced by going online and paying the admin fee:
Go to myswiftcard.com
Select the 'Swift and Tickets'
The last column is 'Manage your ticket', you will see an option to 'make a payment' – click this to make a payment for a replacement card.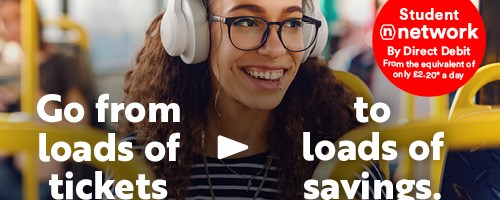 Save on travel with nNetwork
Get nNetwork by Direct Debit for students from the equivalent of only £2.20* a day.
For multi-modal travel get the nNetwork ticket today.
Stay up to date
Receive an email notification when this information changes.
Sign up for updates